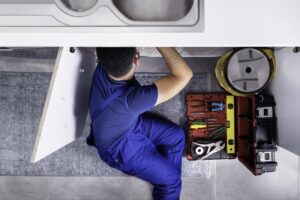 You're having a plumbing problem … but is it time to call a professional?
We know that sometimes calling in a professional plumber can seem a little dire. There are those plumbing problems that definitely back you into a wall and make your home life hard, but they're not so serious that you feel like you need a professional to work on it.
We want to assure you that calling a professional isn't overzealous. It's just wise. If you're looking for a plumber in Tucson, AZ whom you can trust, you might want to get in touch with the professionals on our team. We make sure every member of our team is smart, reliable, and always there to perform what you want.
Call Us If …
Here are some of the reasons you can call our plumbing professionals.
1.  Low Water Pressure
This is one of the most common plumbing problems that people hesitate to call us over. If you notice that you have low water pressure, we want to assure you that this is something that you should call us over. This is going to become a bigger problem with your home's plumbing pretty fast.
2. A Running Toilet
Your toilet would be the standout member on a track team because—boy, is it running! Your toilet makes a noise for far too long and you can't get it to stop. You flush it again, you jiggle the handle, and nothing. This means that you need a professional to tap in and find the source of the issue.
3. Dripping Faucets
Your sink faucet is driving you insane because it's dripping. You have no idea what's going on, but you know that you can't go a day longer with this happening. You should call our professionals if this is happening. This really isn't a minor issue. It's actually going to result in high plumbing problems and low water quality.
4. Clogs
Are you struggling with clogs in your home? You feel like after you solve the problem with one clog, the next clog is right around the corner. Your plumbing system just shouldn't have this much trouble. If it does, then it means that you need to schedule an appointment with us.
5. Poor Water Quality
Does your water taste or smell funny? This means that you need professional plumbing service. It might not be a direct detriment to your health, but it does mean that some part of your home is corroding and needs help.
6. Slow Moving Drains
Your drains could be described with one word lately: sluggish. You need to come to our professionals when this is the case. Slow moving drains are a sign that you have plumbing problems on the horizon. We're going to help you out.
7. Bonus: Maintenance
Yes! That's right, you need maintenance for your plumbing system too. Come to us and we're going to help you keep your plumbing system in amazing shape.
Contact Picture Rocks Cooling, Heating & Plumbing today to schedule an appointment with our professionals. We're here to help you get exactly what you need.