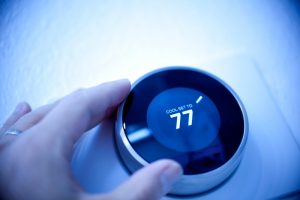 Are you looking to get more from your home's air conditioner or heater? You need to start with the thermostat. Your home's thermostat is more than just the switch that turns the air conditioner or heater on and off. The thermostat deserves your time and attention. Although you might be coming to realize this now, you probably do not have the expertise or knowledge necessary to handle it the best way. That's where we step in.
We specialize in your HVAC services in Red Rock, AZ. We'll make your HVAC service flawless. If you need an upgrade or just an updated model for your thermostat services, we're here to help you out. Come to our professionals.
Do You Need a New Thermostat?
Are you having trouble determining if you need to upgrade your home's thermostat? These are the signs:
The home's temperature reading is completely off
You've noticed an unwarranted spike in your monthly energy bills
You've had this thermostat for 10 years or longer
The heating or cooling system won't turn off or on when you want it to
You notice frequent temperature fluctuations you can't explain
The air conditioner or heater cycles on and off too fast
If you have a sneaking suspicion that you need a climate control upgrade and you don't see your specific problem listed above, can come to our professionals and we'll make sure that you have the right service.
Your Thermostat Upgrade
You have two options when it comes to upgrading your thermostat. We're going to break down the differences between them here:
Wi-Fi Thermostats
A Wi-Fi thermostat is what you need when you want a better level of control over your home's HVAC system. Wi-Fi thermostats are so great because they allow you to program the thermostat from anywhere in the world. This means that you can start warming up your house before you even get home. You can kiss goodbye those chilly evenings after you first hit the door. Wi-Fi thermostats optimize your time and energy.
Smart Thermostats
Smart thermostats are like Wi-Fi thermostats, but they have the added perk of "learning" how to control the temperature of your home. A smart thermostats start to monitor your habits as soon as it's installed in your house. Smart thermostats pick up on when you like to turn your HVAC system on and off, what your preferred temperatures are, and the system can even note places where you can optimize energy use. Smart thermostats work to help you save time, energy, and money when it comes to heating and cooling your home.
If you're ready to get a new thermostat, but you're unsure if you want a Wi-Fi or smart thermostat (and you can combine both), we'll walk you through the best options. We know it can be a little confusing when there are so many options. But we will make sure to move you in the right direction toward what you need.
Contact Picture Rocks Cooling, Heating, & Plumbing today to schedule an appointment for your HVAC services.