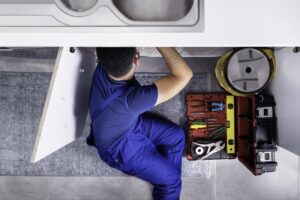 So … what's a slab leak? It's one of those plumbing problems that you often hear about, but do you really know what it means? Sometimes you don't know all the technicalities of a plumbing problem, but you know that it's bad news if it happens in your home. We understand that, practically speaking, this is all you need to know as a homeowner. We want you to understand all the details because it can help you avoid troubles like this in the future.
If you want great plumbing in Green Valley, AZ, you should get in touch with our professionals. We're here to help you out. We can ensure that you have perfect work to keep your home safe, sound, and efficient.
What Causes Slab Leaks?
The best way to avoid a problem is to know what causes the issue. Here are a few things that you should watch out for to ensure that you're not accidentally causing a slab leak at home:
A Shift in the Ground
If your house has significantly shifted on its foundation throughout the years, then you might be prone to a slab leak. The shift can impact your entire plumbing system. We're here to help you get it back on track.
Poor Installation
If you didn't have a professional install your home's plumbing, then you might be prone to slab leaks. Poor installation sets the tone for the entire lifetime of your system. That's why it's so important to have professional service. You might have to start over with your plumbing system if this is the case in your home. Our professionals are here to make the process as easy as possible.
Corrosion
Your pipes are underground so they're in constant contact with the soil. This contact means that your pipes are going to corrode over time. If you've had your home's pipes for a while, then it means that they've probably deteriorated over time. This can cause a slab leak.
Signs That You Have a Slab Leak
Are you unsure if you have a slab leak? Here are the signs that you have a slab leak brewing in your house:
A spike in your water bill
Mold problems or a moldy smell
Damp or warm floors
Cracks throughout your home (particularly on your baseboard or walls)
Standing water anywhere in your house
Low water pressure
Don't ignore these signs. Call up our professionals for the work you're looking for.
What to Do If You Have One
Now let's get to what you've probably been waiting for—what should you do if you encounter one of these problems? You should do one thing: call our professionals.
You don't want to leave anything to chance when it comes to a slab leak. You need to put the safety, quality, and care of your home in the hands of a seasoned professional. We're here to take care of everything you need, and we'll do it at an affordable price. Call our team members today.
Contact Picture Rocks Cooling Heating & Plumbing today to perfect your plumbing.