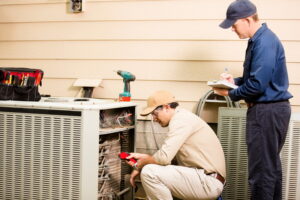 Now that the weather is starting to heat up, it's important to keep your comfort in mind. One of the best ways to do this is by remaining prepared. Preparation in HVAC is mostly done through methods of prevention.
Today, we want to advise you about a variety of signs that you might need air conditioning repair. We're understanding professionals: we never expect you to know all there is to know about your air conditioning system. That's why we're here. We'll fill in the knowledge gaps for you.
There are many signs that air conditioning trouble is on the horizon. If you notice any of the following, you can turn to our professionals to repair your air conditioning in Tucson, AZ.
AC Problems to Handle ASAP
Here are some air conditioning problems that you should handle as soon as possible.
Low Capacity
Are you having trouble with the capacity of your home's air conditioner? Don't answer this question with a dismissive "no" just because the air conditioner seems to be working. You're actually struggling with your air conditioner's capacity if you had to run the air conditioner differently this season compared to previous seasons. This might look like choosing temperatures that are far cooler than you're used to or running the air conditioner for much longer than normal.
High Energy Bills
Do you have high energy bills that haven't been sparked by any significant change in your home? If you do, then it's time to schedule an appointment for repair. You might have a broken or worn part somewhere in your system that's causing the efficiency to decline. We'll pinpoint it and repair it.
Dirty Filters
We recommend that you change your AC filter once a season or once every three months because it's will keep your air conditioner working well. A dirty filter puts unnecessary strain on your air conditioner. A fresh filter will keep the system in top shape.
Thermostat Issues
Does your thermostat just seem "off"? Maybe it seems to be having extreme difficulty reading the internal temperature of your home. This is bad news because the thermostat is the brain in control of the air conditioner. You're not going to get the right temperature in your home if the thermostat can't lead the HVAC system in the right direction. This is why we recommend updating your thermostat on a regular basis. This might be your sign to invest in a smart or Wi-Fi model.
Short Cycling
Have you noticed that your air conditioner is running in shorter cycles? Really think about it. Have you had moments where you're shocked that your air conditioner has already turned off? It might not seem like it's done because you're definitely not cool enough. Short cycling isn't just frustrating, it's also a big issue when it comes to your efficiency. This is why we suggest you note this problem and call a professional as soon as possible.
Contact Picture Rocks Cooling Heating & Plumbing to schedule an appointment with our professionals.