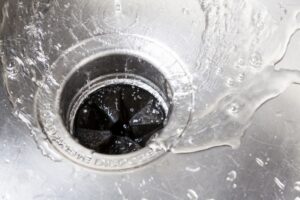 After dinner, the majority of households rinse the dinner plates in the sink, flip a switch on the wall, and watch the food particles disappear down the drain without ever thinking twice about the appliance doing the work.
Garbage disposals are something we always expect to be there—shredding our food waste and keeping kitchen pipes clean and clog-free. We especially don't think about installing a new one when our current one seems to be working just properly.
However, all garbage disposals have a life expectancy. Eventually, you'll have to replace even the best garbage disposal. When that time does come, ensure you use only a professional plumber in the Marana, AZ area for the installation. Here's some information on how long your garbage disposal will last and the factors that influence that length of time.
The Lifespan of a Garbage Disposal
The average lifespan of garbage disposal is 10 to 15 years. Some habits can cause the motor to burn out sooner or your blades to wear down faster.
Quality of the garbage disposal. Opting to purchase a new, heavy-duty garbage disposal over a cheaper disposal is an investment that will pay off over the years. In addition to having more features, it will last longer and work more effectively than its cheaper or older counterparts.
What you put down the drain. Items placed down the garbage disposal have a huge impact on your garbage disposal's lifespan. For instance, grease will accumulate over time and inhibit your garbage disposal's grinding ability, along with clogging the drains.
Amount of use. The more you use it and the harder it works, the faster the motor and blades will wear down.
Garbage Disposal Best Practices
Putting the wrong items in your garbage disposal can destroy it. Although "garbage" is in its name, you should never treat your garbage disposal like a garbage can. Here's a list of some things to avoid putting in it:
Clamshells
Oyster shells
Coffee grounds
Bones
Grease
Oil
Celery
Pasta
Fruit pits
Large amounts of vegetable skins
Large amounts of eggshells
Corn husks
Artichokes
Any non-food items
Cleaning your garbage disposal regularly can help delay the inevitable demise. You can clean grime off the garbage disposal blades by pouring equal parts vinegar and baking soda into the unit. Make sure the disposal is off. Once the mixture stops foaming, rinse with hot water. Doing this monthly keeps your garbage disposal clean and in working order.
Scheduling maintenance services with a professional plumber at the first sign of an issue helps eliminate the possibility of any further damage to your unit. A plumbing diagnostic home check-up can ensure there are no leaks or clogs affecting your garbage disposal.
Importance of Professional Installation
Getting professional installation services helps ensure your garbage disposal unit works properly and efficiently. Improper installation of a garbage disposal could cause the motor to burn out, but could also create major plumbing or electrical issues which could pose a safety threat. The do-it-yourself approach doesn't always save you money. Experienced professional plumbers can quickly put in or replace garbage disposals with ease.
Contact Picture Rocks Cooling Heating & Plumbing to schedule an appointment for your plumbing.