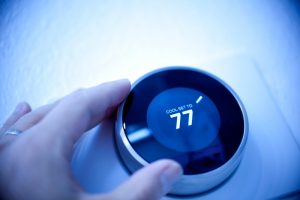 After a long winter here, you might want to consider ways to get your home warmer. If you've tried all the tips and tricks we've suggested to improve your heating efficiency, then we suggest starting with minor changes at home. One of the small changes you can make that makes a huge improvement is changing your thermostat.
Your thermostat is the central control hub of your home's HVAC system. If you want great heating service in Red Rock, AZ, then we're the ones who can provide you with the right thermostat work. On top of this, if you have questions, then we have the answers to your questions. We want to provide you with all the knowledge you need.
Smart and Wi-Fi Thermostats
Let's start off by talking about the type of thermostats available. The two main thermostats that we use are smart and Wi-Fi thermostats. There are key differences between the two models, although many models use both technologies.
Wi-Fi thermostats rely on Wi-Fi capabilities. This means that you can eliminate a great deal of user error. We've all had those days where we leave the house in a rush and forget to turn our heater off. Although this isn't the end of the world, it is terrible for your home's energy use. You don't want to waste energy when you don't have to and a Wi-Fi thermostat can help you avoid this because you can turn it on or off from anywhere that you have a Wi-Fi or connection. 
A smart thermostat is essentially a Wi-Fi thermostat with the added benefit of "learning" how you like to heat or cool your home. This is beneficial because it can positively affect your energy efficiency. Smart thermostats are "smart" because they can suggest better ways to run your home's HVAC system to save you money. If you allow them to, they can even auto-adjust your settings to more energy-efficient practices. If you want to improve your home's heating, then this is the best system to choose.
When to Upgrade
Are you unsure if this is a worthwhile investment? We suggest upgrading when in the following situations…
You haven't upgraded your home's thermostat in 10 years or more. 
You have an outdated thermostat that uses a dial or switch.
You have a thermostat that is digital but it hasn't been updated in close to a decade.
Your thermostat doesn't control your HVAC system well.
These are all signs that you should upgrade your home's thermostat.
Always Choose a Professional
If you choose to upgrade your home's thermostat, then we suggest upgrading through the help of a professional. We know that if you get online and search anything about Wi-Fi or smart thermostats, then you're going to see countless articles and videos instructing you on how to install these thermostats on your own. While it's possible to install one on your own, we don't suggest doing so. The only way to make sure that you have an effectively working new thermostat is through the help of professionals like ours. We're ready to serve you whenever you need us most. 
Contact Picture Rocks Cooling Heating & Plumbing to schedule an appointment with our heating professionals.