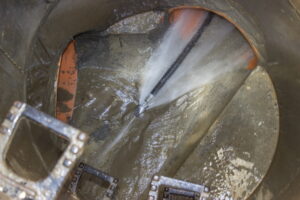 Along with our full services for residential plumbing, Picture Rocks Cooling Heating & Plumbing also offers high-quality commercial plumbing in Tucson, AZ. You can expect the same array of jobs—plumbing installations, repairs, replacements, and maintenance—but designed for the special needs of commercial businesses.
Let's focus on plumbing maintenance. Regular maintenance for your commercial HVAC system is essential for keeping your business operating, especially AC maintenance to handle the extreme heat of Tucson summers. This shouldn't mean you can let regular plumbing maintenance slide. It's just as important! It will keep your business up to health codes and help prevent devastating downtime and other shutdowns because of major plumbing issues.
Regular Commercial Drain Cleaning
One of the key plumbing maintenance jobs is routine drain cleaning for your facility. Drain cleaning doesn't mean we pour some chemicals down the drains in your business and call it a day. No, we provide full cleaning scour jet service that removes all the debris from the inside of the drainpipes in the building to restore the pipes to "like new" condition. This not only helps to prevent drain clogs in the future, it protects the pipes and stops the development of foul odors coming from the drains.
Leak Detection
Your building may have water leaks you don't know about. They start in pipes hidden in walls and in the floors, seeping out of tiny gaps between connection points or through pinhole leaks that start as a result of corrosion. These leaks will cost you plenty in wasted water. They will also do damage to building material and can help the growth of mold and mildew. Our expert commercial plumbers do leak detection as part of maintenance to find where your building may need vital plumbing repairs.
Sewer Line Cleaning and Great Trap Cleaning
Any building that connects to the municipal sewer system has a sewer line that's the responsibility of the property owner to care for. The sewer line can become congested with build-up, creating extreme unsanitary conditions and sewage back-up. We provide regular sewer line cleaning using the same scour jet technology we use for drain cleaning. This restores the sewer line to the best shape. For restaurants that use grease traps, we offer regular maintenance to clean these traps.
Other Maintenance Inspections and Services
Commercial plumbing maintenance covers many different jobs, and the ones your facility needs will vary depending on its type. Our plumbers can check on water pressure levels to determine if the pressure is either too high or too low and offer solutions for this. We'll examine key plumbing appliances to ensure they're working correctly and that they meet local codes. If there's anything amiss with your commercial plumbing, we'll locate it and either make the adjustments to correct it on the spot or arrange for the plumbing repairs that will fix it.
We are focused on providing the best service to all our commercial clients. From dispatch to sales and service, every employee knows to provide customer service with integrity, honesty, and consistency in excellence.
Contact Picture Rocks Cooling Heating & Plumbing today to schedule an appointment with our professionals.