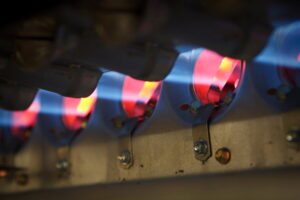 When you purchase a furnace, we know that you purchase it with the intention of it lasting as long as possible. You want to be able to spend the full 10–15 years with this system working in your home. We know that you also want your furnace to perform well, keep you warm, and cost you a reasonable amount each month. If you want this to be your reality, then you should keep your furnace in pristine condition. 
If you're wondering what keeping a furnace in pristine condition entails, then you've found the right blog. There are some simple things you can do to improve your furnace service in Tucson, AZ. These simple tips can help you get more from your furnace.
Easy Ways to Improve Your Furnace's Performance
Here are a few ways that you can improve your home's furnace service this winter.
Schedule an Appointment for Maintenance
The first step to getting great furnace service starts with an annual furnace appointment. Most of the time, we recommend that you get your heater tuned up in early fall. This is the ideal time to tune up your furnace because it prepares your system for all the work it has to do for the rest of fall and winter. Maintenance is vital. It helps you keep your furnace in proper working order. If you want to keep your furnace in shape for years to come, then it's also wise to enroll in our maintenance program.
Don't Delay Furnace Repair
If you notice a problem, you're going to need to speak up about it as soon as possible. We don't recommend that you wait on furnace repair because it only allows the problems you're currently experiencing to become worse. Prompt repair will keep you warm and keep your system high quality.
Upgrade a Thermostat
One of the best things you can do for your furnace is to upgrade the thermostat. If you haven't upgraded your furnace in a while, then you're probably running a system that isn't all that accurate. Smart and Wi-Fi thermostats are known to improve efficiency, make your life easier, and even help save you money. 
Make Sure Your Ductwork Is in Great Shape
If you want to make sure that your furnace performs well, then you're going to need to make sure that the ductwork is in proper shape. The ductwork is essential because it's what gets conditioned air to you. If your ductwork is in bad shape, then it's likely that your furnace's heating power will go to waste. 
Get Your Ceiling Fan Involved
Your ceiling fan is helpful if you want to improve your furnace's efficiency. The first step to getting your ceiling fan involved is flipping a switch that you'll find at the base of the fan. The fan blades will start rotating in the opposite direction and push air down. Since warm air rises and typically gathers toward the ceiling, turning on your ceiling fan this way will help you benefit from the warm air up there.
Contact Picture Rocks Cooling Heating & Plumbing to schedule an appointment with our professionals.