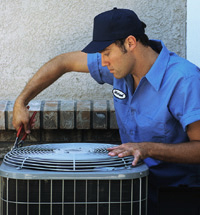 It's important for you to know when you need air conditioning repair. Half the battle with air conditioning issues is just remaining prompt when it comes to your work. Your air conditioning repair call doesn't have to be immediate, but you don't want to wait too long. Procrastination is the enemy of a healthy air conditioning system. If you wait too long the air conditioning problems that you're facing can actually become worse with time.
If you need AC repair in Marana, AZ, then it's time to call our team of professionals. We know what to do for you. AC repair work doesn't have to be difficult when you let our professionals take the lead.
Call Us When…
Don't know when you need to pick up the phone? Here are the signs you're looking for…
Warm Air
Your air conditioner's main purpose is to blow cool air into your home. Let's say that it isn't doing this now, however. What can you do about it? You can come to our professionals for the work you need. We know that warm air is tough to spot. Even when we say "warm air," you might be thinking hot air. You might just notice that your home doesn't cool down as fast or fully as you are used to. If this is an issue that you're dealing with, you can come to us for what the repairs necessary to make your home cool again.
Weird Noises
You shouldn't hear much noise coming from your home's air conditioner. Watch out for problems like this:
Banging
Squeaking
Squealing
Rattling
Grating
Grinding
Clicking
Your air conditioner shouldn't be something you have to drown out with the sound of music or your television. If the noises are bothersome, this is a good enough reason to call. These noises will lead to further problems in the near future.
High Energy Bills
If you're running your air conditioner the same way you always have, but your energy bills are out of this world, it's time to call us. High energy bills with no clear cause are a sign of trouble. The problem that's lying right underneath the surface is a problem with your air conditioner efficiency. Once you realize this, it's time for you to allow our professionals to pinpoint the source of the issue. Call us for everything you need in Marana.
AC Leaking
Have you noticed that your air conditioner is leaking from the outdoor unit? This isn't a good sign. We find that many homeowners try to brush off this problem for as long as they can. Yes, sure your air conditioner is leaking from the outdoor unit, but when you head to your thermostat it isn't affected by the problems you're seeing outdoors. You can push it off for a little while longer, right? Wrong! This is how you end up with an air conditioning breakdown. Address the problem fast.
Contact Picture Rocks Cooling Heating & Plumbing today to schedule an appointment with our team. Serving Tucson, AZ since 2001.