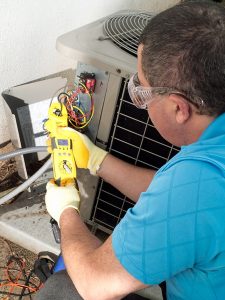 If you haven't prepared your air conditioner for the season ahead, it's actually not too late. We know that it might seem like you're a little behind the curve when it comes to work like this. Most places recommend you have the work performed in early spring. Just because you're a little behind doesn't mean that you should throw in the towel—better late than never, right?
If you're looking for air conditioning maintenance work in Tucson, AZ, make sure you schedule an appointment with our professionals. We're going to see that you have the best work possible. We only want you to have a comfortable summer no matter what. Make sure that you always trust professionals to do the work that you need.
Why You Should Have Air Conditioning Maintenance … Even Now
We know you might think that it's late for air conditioning maintenance, but here are a few reasons why you should schedule air conditioning maintenance for your home … even now.
Summer Is Still Far Away
Summer is still far off on the horizon. We know that things are already heating up, but don't think that just because spring has come and gone that you're too late to get the work you need. It's not going to get scorching hot here until late July or even early August. There's still time to prepare for the temperatures that are really going to give your air conditioner a run for its money. Tucson heat is nothing to scoff at. You know this. Make sure that your air conditioner is ready to cool you off for the next few months.
You Want to Save Money
Do you want to save yourself a little money this spring or summer season? We're sure that you do, and you can do it with a little proactive care for your air conditioner. Air conditioning maintenance ensures that your air conditioner is running on high. Call us and we'll make sure that this summer is just as affordable as it is cool.
You Want Your Air Conditioner to Last
It's not just about this summer; it's about all the summers to come. You don't want to face a premature AC breakdown in your home just because you weren't giving your system the necessary care. If you need great work for your home, make sure that you come to us. We'll help your air conditioner reach its full potential.
Professional Service Is Always What Counts
Okay, so now that you understand the importance of air conditioning maintenance, we want you to understand the importance of air conditioning maintenance from a professional. You can't trust just anyone with the work you need. In fact, scheduling an appointment for maintenance from an amateur isn't going to ensure that you're really preparing your system for the season ahead. It might not be the work you need to really get quality service this summer. Make sure you're investing in your home with quality care from trained and licensed professionals.
Contact Picture Rocks Cooling Heating & Plumbing today to schedule an appointment with our professionals for the work you need.