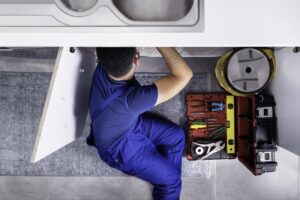 We're sure that you know that homeowners in other states need to winterize their homes and belongings. What if we told you that this is also necessary in Arizona too?
We're not saying that you need to get out in your driveway and shovel snow, bring in your plants, or hire one of the neighborhood kids to shovel your driveway. These are all things that our climate lets us avoid. What we are saying, though, is that you should get your plumbing ready for the cold temperatures. We're steadily chugging along toward that time of year where it's going to get the coldest. You can make it through with grace as long as you have expert tips from the right plumber in Tucson, AZ.
What You Should Do
So here's the rundown … these are a few things you can do to keep your Tucson plumbing in great shape.
1. Fix Those Leaks Now
If you've been turning a blind eye to that drip going on beneath your kitchen sink, now is the time to address this problem.
You can get away with neglecting problems like this throughout the spring, summer, and even the fall. Winter is the time of year where things are going to be a bit different though. Frozen pipes are rare here, but they can happen. We live in a cold desert climate where our nights and mornings are quite cold. Don't think that something that's not a common occurrence can't happen to you!
2. Keep Your Home Warm
If you want to avoid any potential heating problems, then a great thing to do is keep your home warm. We know it's easy to turn off your heater at night. You might even turn your heater off if you find a way to safely get away for the weekend this winter. We want to encourage you to keep your home warm. It will prevent potential pipe freezes and pipe bursts. Don't let your home's internal temperature dip below 55 or 60 degrees.
3. Insulate Exposed Pipes
If you have some pipes outside, in your garage, or even in a crawlspace, they're not going to benefit from consistent warmth in your home. That's why it's a good measure to insulate these pipes to avoid any potential trouble.
4. Flush Your Water Heater
This is a great measure to take no matter where you live. Flushing your water heater helps prevent any water heater problems as the winter season marches on. If you don't flush your water heater, you're only increasing the risk that you run into hard water issues or even water heater repair troubles.
Water heater flushing should always be performed by a professional. We're here to help you with your plumbing services this winter season.
5. Check in on Those Sewer Lines
Having a sewer backup is one of the worst things that can happen to your home. That's why it's a great idea to have one of our professionals give you a check up before the season starts. We'll help you keep your sewer lines in amazing shape.
Contact Picture Rocks Cooling Heating & Plumbing today for your plumbing services in Tucson.