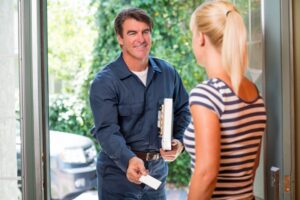 It can be easier to describe negative qualities than positive ones. You certainly have a lot to say when you've seen work done poorly, or when you've had an unpleasant interaction or an unsatisfactory business deal. But it's good to consider exactly what qualities you expect and appreciate in others. When it comes to plumbers, there are several things you can be aware of when assessing the service they provide and the way they provide it.
A great professional plumber is not just a great plumber, but also a person who behaves with professionalism. They can be relied upon not just to get the job done, but to do it courteously and make it as pleasant for you as possible. You can begin to assess a plumber before they do any work in your home.
Early Signs of a Great Professional Plumber
The first thing you'll notice with a great plumber is that they respect your time. They give you as specific a window as possible for when they'll arrive, and they reach out to let you know if they might arrive early or are running late.
Secondly, they arrive prepared. Failure to plan ahead means delays, inconvenience, and a waste of your time. A professional plumber should have everything they need for the job they were hired to do.
Third, they are happy to share their qualifications. A licensed, bonded, insured plumbing professional will be able to provide documentation of their credentials, as well as references from customers.
A Great Professional Plumber at Work
Estimates are often the primary concern of customers. And it's true that a great professional plumber will provide a clear estimate, in writing. It should be itemized, so you can see what you'll be charged for parts, labor, and other costs. For larger projects, though, you'll need more than this estimate. A great plumber will also offer a contract, a scope of work agreement, and a timetable when these are necessary.
While working, they are considerate of the space they're working in. Perhaps they offer to take off their boots when they come into your home, or they put plastic booties over them to keep mud off your carpet. They prevent mess or damage from affecting the area where they work, using drop cloths, and tidying up after themselves.
Finally, your plumber should be willing and able to clearly answer any questions you have about the project. Being professional means being courteous, so a great plumber will never make you feel foolish for asking questions. They will be specific and detailed while using language you can understand rather than technical terms or jargon. And they will be pleased to help you learn something new.
When Something Goes Wrong
Mistakes happen. Even great professional plumbers are not flawless, they're human. And handling a mistake or an unexpected problem professionally means taking responsibility, explaining clearly, and making things right.
If you've experienced subpar plumbing services in the past, you don't have to suffer through that again. When you need plumbing in Tucson, our great professional plumbers are proud to offer top quality work, up-front communication, and courteous customer service.
Contact Picture Rocks Cooling, Heating & Plumbing today to schedule an appointment with our professionals.