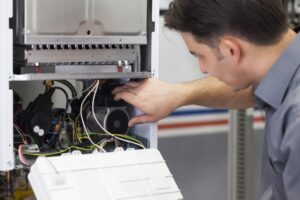 Furnace repairs can be quite a hassle, especially when the need for repair comes up unexpectedly. You have to rearrange your schedule to be available for the technician, and then you worry about what the cost will be and how you will pay it. But you don't have many options, because you need your heat up and running. It's even worse if your furnace fails completely during a cold winter night, and you wake up to a frigid house.
It's worth doing anything that's necessary to decrease the likelihood of repairs, so that you can avoid the stress, expense, and inconvenience. And we've got some great news for you. The best way to prevent furnace repair is very simple and straightforward: it's regular maintenance.
There are two aspects to your furnace's regular maintenance, and we'll explain them both.
Change Your Air Filter
While furnace installation, maintenance, and repair is almost entirely a job for professionals with extensive training, experience, and licensing, there is one job that you should be doing yourself. Your furnace's air filter prevents dust, debris, pet hair, and particles from passing through the furnace and recirculating out into the air you breathe. Not only does this improve your indoor air quality, it actually improves your furnace's well-being. All that dust and mess slows down airflow, decreases efficiency, and contributes to the wear and tear on your furnace's components. 
Some air filters are reusable and should be cleaned and reinserted into your furnace. Others are disposable and should be thrown away and replaced. If you're not sure what type your furnace uses, check your owner's manual or reach out to us with your questions. Much of the general advice about air filters suggests they be changed every three months, but in our area, that's simply not practical. The dry environment creates higher levels of dust, so you should change your air filter once a month.
Annual Maintenance
Each year, generally in the autumn, your furnace should have a full check-up from a qualified technician. This yearly routine provides a wide array of benefits in addition to decreasing your likelihood of needing furnace repairs.
Safety: Your furnace's gas connections and electrical components will be inspected, and your technician will make sure there is no leaking fuel or carbon monoxide.
Efficiency: Without maintenance, a furnace can decrease around 5% in efficiency every year. Regular maintenance can keep your efficiency near-perfect, decreasing your utility bills.
Longevity: A furnace that is maintained annually will have a longer lifetime of service, delaying the worry of replacing it for years to come.
Warranty: If your furnace is new, check your warranty agreement. There is likely a clause stipulating that annual maintenance must be done. Keeping your furnace under warranty can save you a lot of money in the long run.
We're happy to partner with you in the care of your furnace and help you avoid problems, but if you ever do need furnace repair in Tucson, we'll be here. 
Contact Picture Rocks Cooling, Heating & Plumbing today to schedule an appointment with our professionals.