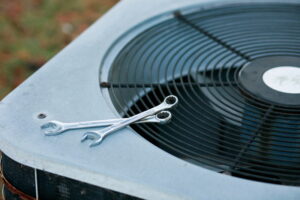 It's getting warm outside and you're sure to use your air conditioning system more often. This is the time of year when you should pay close attention to your comfort. Sometimes, it's easy for us to disregard issues that we have with our air conditioning systems. We can chalk it up to things like the temperature of the weather outdoors or the time of day. The reality is, though, that your air conditioning system should always be able to handle your cooling needs. If it can't, then it's time to contact us for your air conditioning repair in Vail, AZ. We've got you covered no matter what's going on. Let's figure out why your air conditioner might not be able to do the complete job of cooling this season.
Why Are You Warm?
First things first, we should figure out why your air conditioner can't seem to cool you properly. This is when you should take inventory of your air conditioning system. Ask yourself the following questions:
How old is my air conditioner?
If your air conditioner is in between the ages of 10 and 15, then it might be negatively impacting your comfort. Your air conditioner is expected to last about this long, but the problem is that the efficiency of this system can begin to decline when it reaches the end of its lifespan. This is because older air conditioners have parts that wear down. It can also happen if an air conditioner hasn't been properly maintained over its lifetime or properly installed in the beginning. If you have an air conditoner that's extremely old, then it's time to consider significant repairs or an upgrade.
Where is my air conditioner placed?
Is your air conditioner placed in the proper location? If your air conditioner is underneath direct sunlight, then it's probably not in the best location. Having your outdoor unit in direct sunlight is going to cause your system to work much harder. A hot AC system is going to have to expend more energy to cool your home. When your system uses more energy to run unnecessarily, it's also going to wear your system down faster and cost you much more.
Have I properly maintained my unit?
Do you maintain your air conditioner once every spring or summer? If not, then you're probably running down your system faster than necessary. Maintenance keeps your air conditioning system pristine. This is why it's worthwhile to invest in annual maintenance. We have a great maintenance plan to make this easy for you.
Are there any problems that I could have addressed sooner?
Be honest … that weird sound your air conditioner is making currently has been going on for a few months. We understand if you didn't want to address this right away, but procrastination only allows these problems to become worse with time. This is why you should address the problem as soon as possible.
Is there trouble with my venting?
Your vents might be the issue. If you haven't cleared them or had your ducts professionally cleaned in a while, then we suggest that you get in touch with our professionals. We're here to make sure that your system has the right foundation to perform properly.
Whatever the issue, we offer our full lineup of AC repair services to customers in Vail, AZ, and all of our surrounding service areas. Don't wait, call us today!
Contact Picture Rocks Cooling Heating & Plumbing today to schedule an appointment with our professionals.